Friends of Pinn Meadows is a resourceful and energetic residents' group dedicated to the preservation and maintenance of the open green spaces and river banks between Elmbridge Drive and Bury Street, Ruislip in the London Borough of Hillingdon.
The group was originally formed to oppose the construction of a second artificial grass hockey pitch, with ugly high fences and intrusive floodlights amid the grassland, trees and riverbank of King's College Playing Fields. Without losing our campaigning spirit, Friends of Pinn Meadows now work closely with Hillingdon Council's Green Spaces team to ensure the free enjoyment of the Meadows by all local people.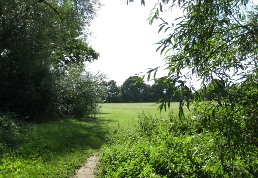 The Great British Clean at Pinn Meadows
12 September 2020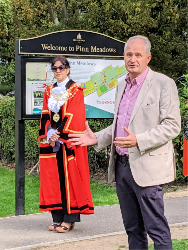 The photos below include Mayor Teji Barnes, Cllr Philip Corthorne, Dragana Knezevic, Rob Cousins, Jill Hayward, Shanti De Costa, Annie Underwood, Elizabeth Freestone, Rajneet Virdi, Laura Bradbury, Ann Franks, Joe Franks, Steve Place, Sue Place, Graham Hume, Doreen Walford, Ed Pryor, Lucia Ingham and Adrian Ingham.